Club Possum – Mountain View Meeting Place – Apple, Setser, White & Hees
July 9, 2019 @ 7:00 pm

-

9:00 pm
Apple, Setser, White & Hees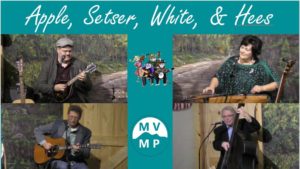 Once in a blue moon we are fortunate enough to gather several amazingly talented musicians in one room. This Club Possum show is a fantastic night of music. Each of these musicians has played professionally, two are currently professional full-time musicians. We are so blessed to have Pam Setser, Brad Apple, Charlie White, and Irl Hees all on the same stage.
Admission is free. Please tip the musicians generously. Popcorn, soft drinks, and other refreshments available for purchase.
Catch this show live at the Mountain View Meeting Place or the live broadcast on the MV Meeting Place Facebook channel or at the website www.mvmeetingplace.com/club-possum.
Related Events