Club Possum – Mountain View Meeting Place
May 8, 2018 @ 7:00 pm

-

9:00 pm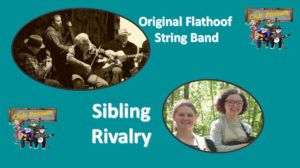 Sibling Rivalry consists of the two talented sisters Haley & Alanna Brewer. Haley's smooth vocal style complements her mandolin and mountain dulcimer skills. Alanna is a true multi-instrumentalist as she is proficient in the clawhammer banjo and guitar. She is an award winning banjo player and a superb flat picker. These two perform wonderful interpretations of old time ballads and instrumentals as well as a few early classic country hits.
Two Roads is an old time/Celtic band that plays the music that has been passed down through the generations of Irish and Scottish immigrants. Fiddler John Perry is fluent in the lavish musical language of the Celtic and old time genres. His wife, Judi, keeps impeccable rhythm on the doghouse bass. Jenny Sartain plays the difficult old time style of clawhammer banjo as easily as breathing. Kai Perry is a maestro of the mandolin and the guitar while Omar uses various old time style percussion instruments to add a unique style to the sound. All together, Two Roads gives their energy and passion to the heart of Celtic and Old Time that they lovingly play for their audiences.
Admission is free. Please tip the musicians generously.A live broadcast can be seen just before 7 pm and just before 8 pm.
Popcorn, soft drinks, and other refreshments available for purchase.
Musicians include: Caleb Elliott,  John Perry, Judi Munn, Kai Perry, Mark "Omar" Henderson, Jenny Sartain
Related Events