Club Possum – Mountain View Meeting Place
June 5, 2018 @ 7:00 pm

-

9:00 pm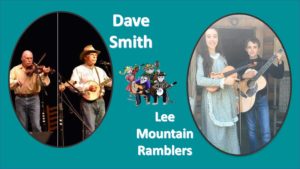 Dave Smith has been playing old time music since the 1970's. He and his band Harmony have played at the Kennedy Center for State's day, and many other venues around the country. Dave's smooth vocals and multi instrumental talents make his solo set a delightful experience. Dave is also the host of Ozark Highlands Radio, an old time music radio program based on the Ozark Folk Center Music Shows. Enjoy Dave's captivating voice and multi-instrumental prowess as he shares some of his favorite tunes.
The sibling group of Josh and Oakley Smith make up the dynamic duo of Lee Mountain Ramblers. Oakley is an accomplished fiddle player and singer, having won the state championship in her division in the old time fiddle competition. Her little brother Josh is also a state champion but in the old time banjo division. Their excellent musicianship along with their entertaining sibling banter make for a wonderfully entertaining show.
Admission is free. Please tip the musicians generously.
A live broadcast can be seen just before 7 pm and just before 8 pm.
Popcorn, soft drinks, and other refreshments available for purchase.
Club Possum is a free music show every Tuesday night at the Mountain View Meeting Place. The live broadcast can be seen on the Mountain View Meeting Place Facebook page starting at 7 pm.
Related Events