Club Possum – Mountain View Meeting Place
March 13, 2018 @ 7:00 pm

-

9:00 pm
 Club Possum is back for another season!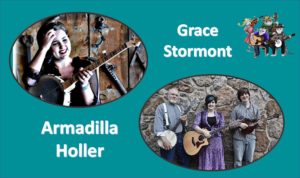 We are honored to have Grace Stomont and Armadilla Holler start our 2018 season off with a bang!
Grace Stormont is a Mountain View favorite. She brings the old time style back to life with her smooth but occasionally delightfully gravelly voice. Her styles have recently taken her into the string jazz genre, delving into the likes of the Gershwin era style music. Her multi-instrumental talents on the guitar, banjo, and fiddle are wonderfully entertaining as is her occasional haunting a cappella performances.
Armadilla Holler combines the amazing talents of three musicians: Grace Stormont, Kai Perry, and Duane Porterfield. This group had the most views last year during the their Club Possum performance.
Tonight's Club Possum is sponsored by BRHS Hometown Clinic with Dr. Eric Spann and Charles Grinder, APRN.
Admission is free. Please tip the musicians generously.
A live broadcast can be seen just before 7 pm and just before 8 pm.
Popcorn, soft drinks, and other refreshments available for purchase.
Related Events