Mountain View Friday Night Music On The Square – Greenland Station Bluegrass Band
September 10, 2022 @ 8:00 pm

-

10:00 pm
Greenland Station Bluegrass Band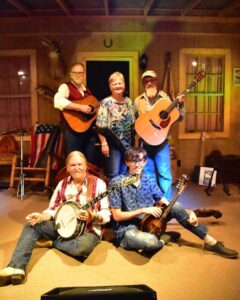 Wow, don't miss this show!!
Greenland Station Bluegrass began when two old school mates, Pam Baldridge on bass and Matt Tomlinson on guitar, ran across each other on the steps of an old school house where a lot of music was played during the winter months. After getting together to jam a couple of times they decided they really enjoyed it and decided to take the next step. So Pam and Matt, along with Pam's husband Gary also on guitar, formed Greenland Station. Named after Pam and Matt's home town.
Rounding out the group are two great musicians, Sam Coffey on Banjo and Isaac McCutcheon on mandolin. With all five members adding their vocals.
A fun traditional/progressive band, Greenland Station offers something for everyone!
Mountain View, Arkansas is a beautiful little town nestled in the midst of the Ozark Mountains. Our Friday night music venue will be a mix of country, old rock, gospel and folk-bluegrass music. We hope that you can join us!! Bring a chair!